For any outdoor enthusiast who can't get enough of the water, the paddleboard kayak hybrids seem like a dream come true. They have it all in one easily accessible space, so you can go from kayaking to paddling boarding in a flash.
AquaSportsPlanet is an Amazon Associate. As an Associate, we earn from qualifying purchases. We also maintain affiliate relationships with other companies. Purchases made through affiliate links pay us a commission but do not increase cost to the buyer. For a full list, read our affiliate disclosure statement.
The 8 Best Paddleboard Kayak Hybrids on the Market:
Knowing which the best of the best paddleboard-kayak hybrids are is essential to making the right decision. We're going to breakdown our top 8 picks so you can spend less time searching through reviews and more time kicking butt on the water.
The Top 8 Best Paddleboard Kayak Hybrids
You might think you can't afford a durable and reliable hybrid, but you haven't met the HydroForce Combo yet.
With the HydroForce Oceana Inflatable Stand Up Paddleboard SUP and Kayak, you get the best of both worlds with a lightweight and fast device. Extremely rigid and notably strong, this product has a weight limit of 209 pounds and is designed with durable 3-ply reinforced polyester underneath two layers of PVC and drop-stitch.
Aside from being cost-effective and durably made, this paddleboard kayak hybrid comes with just about everything to get you started: an aluminum oar, kayak seat with cosy backrest, pump, gauge, and a travel bag for easy storing and moving.
To put it simply this is the best bang for your buck. It's perfect for beginners, or those who are looking for an efficient product that allows them to switch between two of their favourite activities with ease.
This 2020 upgraded model comes with many including the pump, a leash, a carrying bag, travel straps along with an available kayak seat conversion with a foot rest. Rated to handle 345 lbs due to its military grade PVC and double stitching, this gets top ratings from buyers on Amazon.
The high weight capacity and a non-slip surface combine to offer a versatile water toy for one or two people, or maybe an adult with a dog. Zupapa is confident enough to offer a 3 year warranty as well.
AquaSportsPlanet is an Amazon Associate. As an Associate, we earn from qualifying purchases. We also maintain affiliate relationships with other companies. Purchases made through affiliate links pay us a commission but do not increase cost to the buyer. For a full list, read our affiliate disclosure statement.
Sometimes you just want to go kayaking, and sometimes you just want to paddleboard. When the choice is simple, and you don't want a seat getting in your way while enjoying a paddleboard session, you have the ease of removing it with this paddleboard with the kayak conversion kit.
This is Tim's favorite of the paddle boards listed here. It is one of the most popular boards on the market.
This specific product sets itself apart from the crowd because you don't have to have the kayak seat onboard during your paddleboarding activities. However, you can just as easily install it for a sole kayaking trip or a hybrid of both on the water.
You will love that this Bluefin SUP Kit comes with everything you need to get the job done. Inside you will find a dual-action pump with a 3-piece kayak paddle, travel bag, board leash, fin that is detachable, and the essential seat for kayak conversion.
Made to be durable and reliable, the ultra-strong construction of this product includes military-grade PVC as well as overlapping seams for enhancing overall strength. While being rigid and reliable, you will find comfort in the detachable luxury seat for kayaking that can easily be switched in and out.
This is probably the most versatile paddle board kayak hybrid available on the market.
If you are looking for a paddleboard kayak hybrid that has all the bells and whistles to enhance your trip, then look no further: the Hippocamp board has you covered. With this astounding product, you can truly have it all, from the comfort and style to ease of use.
The unique hybrid design of this product allows you to stand up on a cool and sleek paddleboard, while the ergonomic chair is easily adjustable for utmost comfort while using. You can rest assured this comfortable seat with added support will keep you cosy even after several hours of paddling through the water.
What consumers like best about this particular model is the fact that there are two twin fishing pole holders that will easily carry your rods and keep your lines in the water as you kayak down the river. And a cooler is also included. This means you can include fishing in your activities with ease!
You will also find plenty of storage in this beautifully designed paddleboard kayak hybrid. First and foremost, there is a forward and aft bungee tie-down which means you can take along extra gear with ease, and the storage for fishing poles makes everything far simpler for the active nature lover.
Transporting has never been easier thanks to multiple carry handles found throughout the model. It's easy for two people to make their way into the water with ease, while a single adult can easily travel with a wheeled cart.
All in all, the Hippocamp 11'6" Paddleboard has everything you need for an amazing time. Whether you're kayaking, paddle boarding, or even going on a fishing excursion, you will find comfort and ease of use with this astounding model.
A classy blue, white and yellow design isn't the only thing to love with the Blue Water Toys 10' Inflatable Stand Up Paddleboard/Kayak and SUP! You can find plenty of benefits to purchasing this specific model, from convenience and comfort to must-have accessories and bonuses you won't find elsewhere.
Firstly, consumers will love the fact that they can easily convert their paddleboard into a kayak. The seat for this model is larger and wider than most other kayaking seats on the market, which means you can enjoy a more durable and comfortable seat that attaches swiftly to the sides of the board- which in turn, adds far more protection and maximum movement.
Any outdoor enthusiast knows that trekking to your favorite lake or river might require hiking and plenty of walking. With the lightweight and portable design of this model, you can easily toss it in a backpack and trek any way you please without putting any strain on your back or body.
The innovation and superior craftsmanship of this paddleboard kayak hybrid allow consumers to feel confident in their board. From the top-grade PVC material to drop stitch technology, you have the feel of a hardboard with the ease of use of an inflatable model.
You will also be pleased to know that the EVA is completely UV resistant. That means that it won't become damaged over time with exposure to the sun. It's also made with an extra-wide structure so you can have plenty of surface area while you ride, whether you're up on your feet or sitting in the comfortable kayak seat.
If supreme comfort and plenty of room is your goal, then you will find comfort in the Blue Water Toys 10' Inflatable Stand Up Paddleboard/Kayak and SUP! Not only is it spacious, but it offers one of the most comfortable kayak seats on the market and is designed for ease of use in all activities.
For only $300 you can get your hands on this awesome paddleboard and kayak hybrid that's perfect for children and adults alike, whether you're a beginner in the sport or have been doing it for years. So, what are some of the best bonuses for choosing this model?
At less than $300, it's a great choice for anyone who is on a budget but still wants to get their hands on a great hybrid model for all their favourite activities. But what's a big seller for this specific model is the fact that it's a larger design than others on the market and has an outstanding ability to take on higher weights of up to 287 pounds.
The aluminum paddle that comes with this model is scratch proof and also anti-corrosion, which means you won't have to worry about replacing it any time soon. Aside from that, the fins with double-wall fabric ensure your board is always strong- even in the strong sea.
Extremely portable and lightweight, you won't have any trouble caring for this great paddleboard kayak hybrid anywhere you go. Plus, it's very cost-effective without slacking on quality and stability- perfection.
One of the major reasons why someone may choose the Jiubenju All Around Inflatable Stand Up Paddleboard with Kayak Seat is the fact that it can handle larger amounts of weight, which is great for those who want to share a ride on their board with another person or simply want to take a lot of extra stuff with them on their excursion.
This specific paddleboard kayak hybrid can handle up to a whopping 308 pounds, which is far more than other models available on the market. It comes complete with a kayak seat attachment for utmost versatility while out on the water. With heavy-duty PVC drop stitching and double sidewalls for durability, this model can take on just about any challenge.
You will love the larger model of this paddleboard kayak hybrid, but perhaps one of the best things is that the board can handle a lot of abuse, so you won't have the worry about abrasion throughout all of your adventures.
With all of the necessary extras included (like a leash, pump, oar, and repair kit, plus more) you can rest assured you will find comfort in this specific model. With all the weight it can handle and its resistance to even the wildest lifestyles.
Looking for a great model that offers superior comfort that's great for families and pets alike? Then you will enjoy what Promarine Inflatable Paddleboard Stand up SUP has to offer.
This wonderful model ensures that inflation and deflation are simple and quick, so you can spend less time sitting around waiting for your board to be ready and more time getting out on the water doing all your favourite activities! It's super compact when deflated, making it easy to store this board just about anywhere.
The Promarine Inflatable Paddleboard Stand Up SUP comes complete with a staple design that is perfect for all skill levels and water conditions. Aside from its rigidity and durability, this board offers a non-slip deck that is perfect for family members and pets. It's far softer than other models on the market, so if comfort is key, you will like this board.
Ships with a collapsible 2 piece aluminum paddle, kayak seat, pump and backpack. With everything included, you can have a blast on the water whether you're standing up on the sturdy board or relaxing in the seat while kayaking through the rivers.
Things to Consider Before Buying
There are a few things to keep in mind before you buy a paddleboard kayak hybrid board:
Your price range. This should always be considered when buying virtually anything. Most paddleboard kayak hybrid models will be around $300 to $500, but you can find some that are cheaper or more expensive.
How much weight you need. Some people like to travel with a friend while paddleboarding or kayaking, so finding a board that can take on larger amounts of weight is key. If it's just yourself, then you won't likely need to find a board that can't handle more than 210 pounds. Also keep in mind that you might want to bring things with you on your trip, and that weight should also be accounted for.
How much length you need. Just as weight is important, so is length. You want your board to have enough space to ensure your comfort, whether you're travelling alone or with a buddy.
Extras. Plenty of paddleboard kayak hybrids have a whole lot of extras that are designed for consumer convenience and comfort. Some offer larger, roomier, and more comfortable kayak seats, while others might put emphasis on ease of use and being lightweight. Consider all of the bells and whistles each model has to offer and decide what is most important to you.
Materials used. You may find that some paddleboard kayak hybrids are made with more durable and corrosion-resistant materials. While they may be a tad more expensive, they will certainly last longer than a model that gets ruined after a couple of uses. Pay close attention to the material of the board to ensure you're getting high quality that can handle all types of water.
Aesthetics. All boards are going to look somewhat similar, but the design and color should be considered when buying. You want to make sure you're buying a board that you're happy and proud to sport on the water, while also taking into consideration all of these other imperative details.
Consider the accessories included. Something to consider when purchasing a paddle board kayak hybrid is the accessories that are included. You always want to make sure the board comes with a pump (it if is inflatable) and an oar for kayaking. Other beneficial accessories that you may want to include a travel bag, repair kit, and gauge.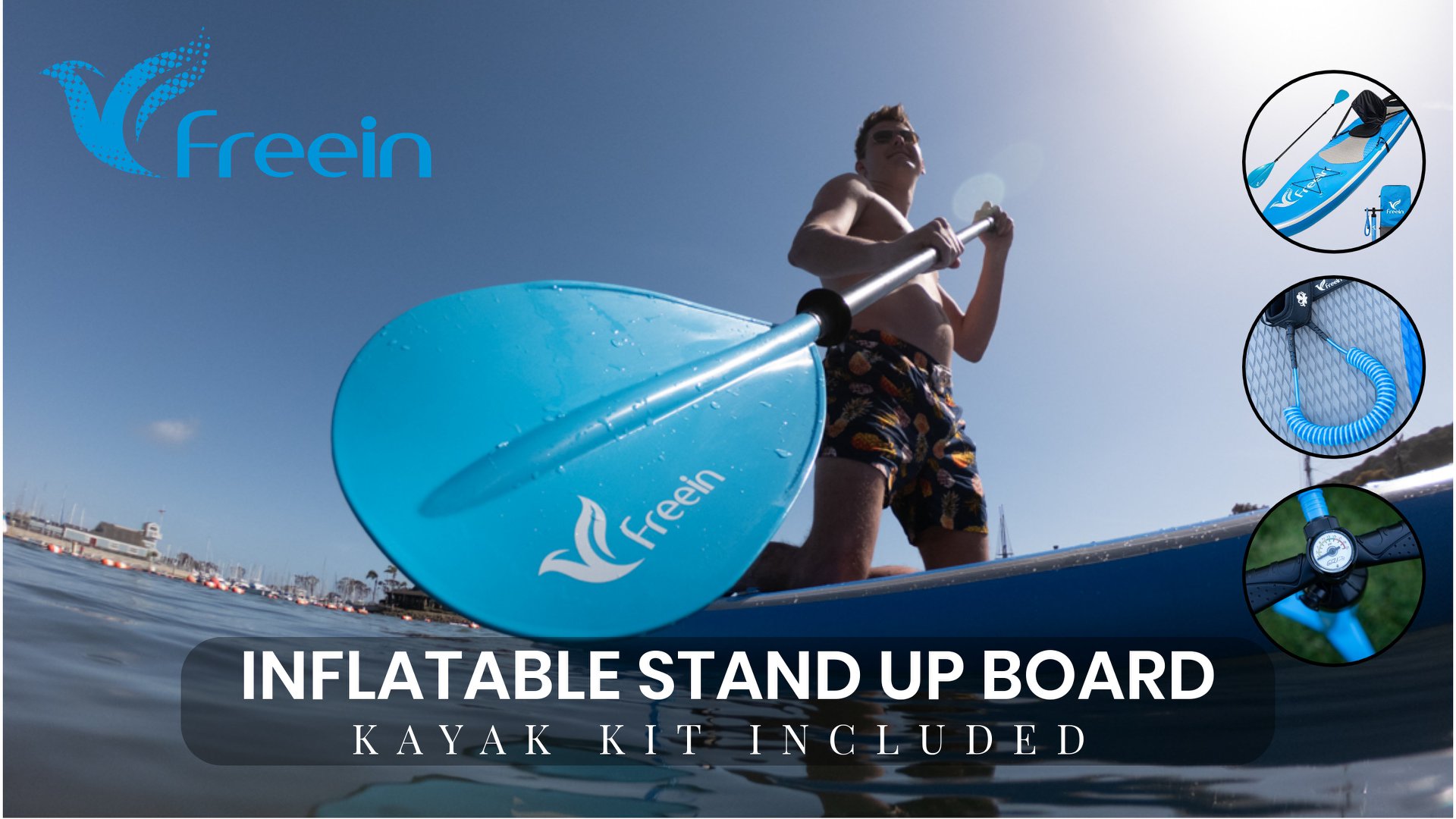 Making sure that you are finding the right paddle board kayak hybrid that is right for you is critical. The right purchase that includes all of your must-have will leave you feeling confident and happy on your water journeys, so taking the extra time to ensure you buy exactly what you need is extremely important. For more on paddle board sizing and weight capacities, read "Determining the size paddle board you need."
Always remember that cost-effective models can be just as good as the more pricey ones. They may lack certain 'extras' that the pricier boards come with, but it doesn't mean they have to lack on durability or stability. You may also be interested in reading Tim's post on which is harder, paddle boarding or kayaking?
Finishing thoughts
Paddleboard kayak hybrids have made outdoor enthusiasts who love both activities to have it all in one place. You're bound to be happy with one of these top 8 best models available on the market. Make sure to consider all of your specific wants and needs before purchasing
But by all means, choose one and get out, stay safe and have fun!
AquaSportsPlanet is an Amazon Associate. As an Associate, we earn from qualifying purchases. We also maintain affiliate relationships with other companies. Purchases made through affiliate links pay us a commission but do not increase cost to the buyer. For a full list, read our affiliate disclosure statement.