The stand-up paddleboard (SUP) has become popular in the past decade or so, as more people are taking to the water on boards in lakes and rivers. Stand-up paddleboarding does not need waves or current or anything else. All you need is a board and a paddle. But what kind of board should you choose?
Here are 8 top brands in different price ranges to help you choose:
iRocker: Our personal choice for riding
Bluefin: Growing quickly worldwide
Nixy: Beach goers cult favorite
Connelly: in business for decades
Decathlon: A leading UK brand
Gili: An up and coming brand
SereneLife: The best inexpensive boards
As a paddleboarder, you have a wide variety of paddleboard brands to explore. There are dozens of brands on the market. So, choosing the best brand for you depends on what type of paddling you will be doing. We'll explore the top brands and how they're best used below.
Choosing the Right Board for You
Whether you are a new paddleboarder or a seasoned expert, it can be difficult to decide on a brand of board to choose from. With so many choices on the market and so many varieties of boards, you may have a hard time figuring out what to get. We want to help you out.
This post covers some of the best overall brands. But if you'd like to read about getting started in paddle boarding at a lower price, be sure to check out "Are Cheaper Paddle Boards Worth It" from Carlo. Good advice and a few recommendations in that post.
The Different Types of Paddleboards
There are also two different types of paddleboards: solid core boards and inflatable boards.
The solid core board is typically a foam core covered with carbon fibers, fiberglass, or wood veneer. Epoxy resin may also be used on top for a stronger board.
Inflatable boards are built from a core of thousands of threads covered with strong layers of polyvinyl chloride (PVC).
In addition, there are various styles of paddleboards depending on the sport you are into. Some variations of board types include:
Flat water paddling
Whitewater paddling
Touring
Yoga
Paddle surfing
Racing
Wind surfing
AquaSportsPlanet is an Amazon Associate. As an Associate, we earn from qualifying purchases. We also maintain affiliate relationships with other companies. Purchases made through affiliate links pay us a commission but do not increase cost to the buyer. For a full list, read our affiliate disclosure statement.
Best Premium Stand-Up Paddleboard Brands
Because there are so many brands and styles on the market, it can be difficult to decide which board is right for you. We are going to look at the top eight best paddleboard brands on the market to help save you time.
The first four are premium boards that offer more quality:
iRocker Paddleboards
iRocker inflatable paddleboards come in four different styles and several different sizes. They range in price from just under $500 to just over $1,000. Each one comes with these accessories:
10-foot ankle leash with a key pocket
D-Rings
Hand pump
Air hose
Carbon ultralight paddle
Backpack
iRocker Nautical: Their most affordable paddle board
The Nautical line of boards (on Amazon) is great for beginners. I bought the 10' 6" version from iRocker site as my first board. It is great for beginners. It is a dual-use inflatable board that comes in two sizes with the following features:
iRocker Blackfin: Top of the iRocker line
The Blackfin paddleboard lineup has three different models that come in different sizes. Carlo briefly owned the XL model, and wrote about it here. It is wider for more stability and great for bigger riders or yoga enthusiasts. Their features include the following:
iRocker All Around paddle boards
The iRocker 11' All Around paddleboard (iRocker) is my top choice from this brand. It also has the widest range of color schemes. I bought the gray color scheme (directly from iRocker summer 2020) as my primary board.
It will accommodate a wide range of rider size and abilities. The 10' All-Around board is the smallest iRocker makes. It is best for riders under 5'10". Both have the following features:
iRocker Cruiser paddle boards
There are two other iRocker paddleboards, which include the Cruiser and the Sport. The iRocker Cruise was Carlo's choice, which he purchased and wrote about previously, is the Cruiser (read his comments here.)
iRocker Sport paddle boards
The Sport is excellent in any type of water and best for those who already have some SUP experience. The Cruiser has an extra wide tail for better stability and is perfect for beginners. They have the following features:
Bluefin SUP
The Bluefin name in paddleboards is known worldwide for its precision and stability. They also have a nice variety of boards including six different models to choose from. All of their paddleboards come with several accessories such as:
Triple action pump
Double paddle
Coiled ankle leash
D-Rings
Air hose
Kayak seat
Extra fin
Backpack
The following Bluefin Amazon link offers 3 models, including the cheaper 11' and 12' Cruise models, at $599 and $699 in limited supply.
Also, these paddleboards come with conversion kits so you can change your SUP into a kayak. Carlo named the Bluefin Aura Fit as one of his top paddle boards for yoga in this post. Carlo wrote about Bluefin here. Here are some of the main features of all the Bluefin models.
Nixy Sports
Nixy is a family-owned company that makes one thing – paddleboards. They do one thing and they do it well. And their customer service is awesome too. Even though these are listed in the premium section, the prices are all under $1,000. All Nixy paddleboards come with a variety of accessories, including:
Coiled ankle leash
Adjustable fiberglass paddle
Triple action double chamber pump
Air hose
Premium wheeled backpack
Repair kit
Nixy Sports has five models to choose from. They each come in several colors and are warrantied for two years. Here are the features for each of these paddleboards. All of the following Nixy board links will open a new page on Amazon except for the Mammoth.
AquaSportsPlanet is an Amazon Associate. As an Amazon Associate I earn from qualifying purchases.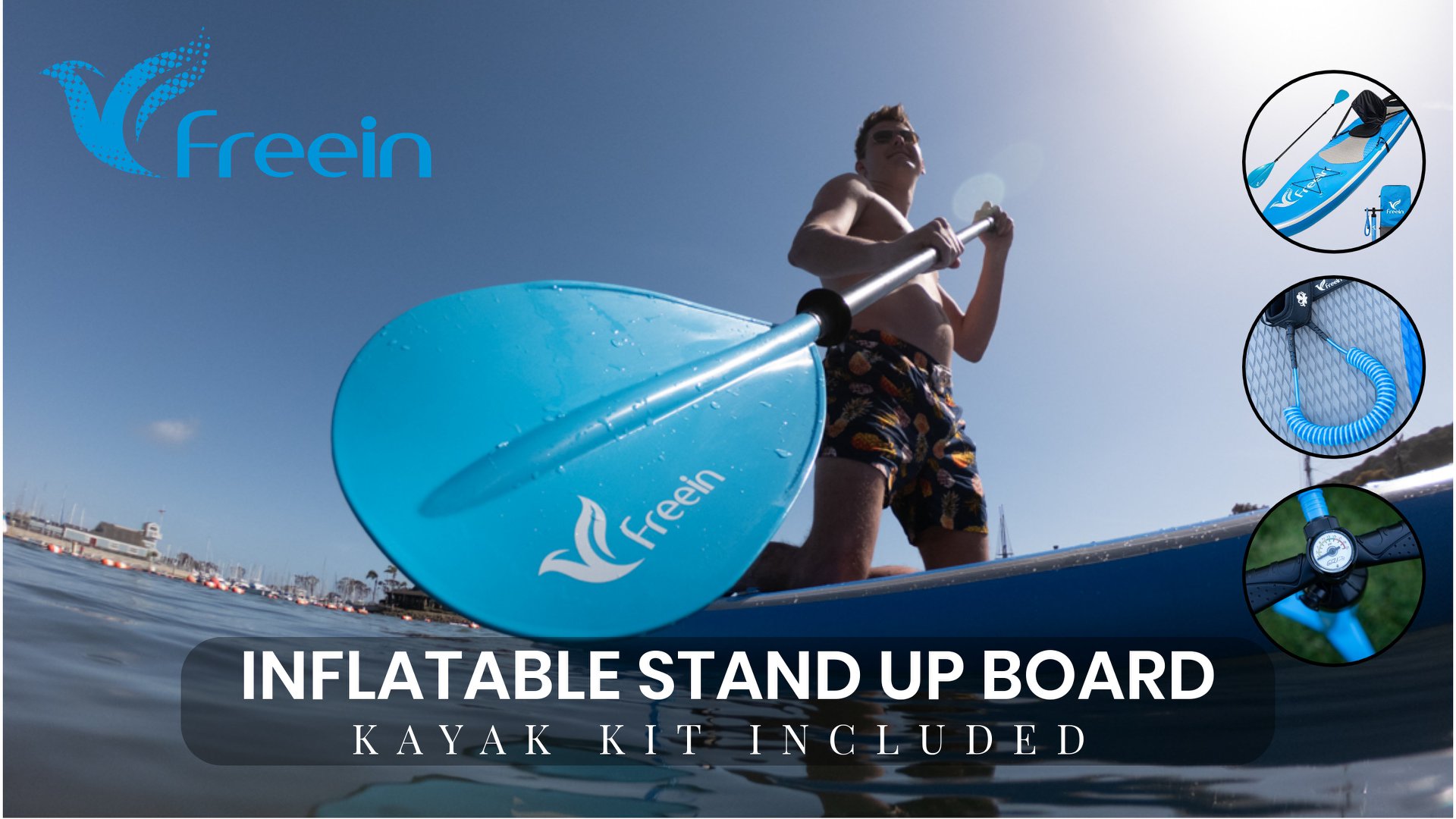 Best Economy Stand-Up Paddleboard Brands
You do not have to spend a ton of money to get out on the water. Some of the paddleboards we found cost as little as $250 and they do not scrimp on the quality either. They even come with the same or similar accessory packages. There is a paddleboard for every budget.
Here are four of the top economy stand-up paddleboard brands:
Connelly
Connelly has been crafting stand up paddleboards for more than 50 years and are known for their economic prices as well as their quality. They have both inflatable and solid SUPs to choose from in 10 different models. The prices for Connelly boards range from about $600 to over $1,000. The Connelly Nava is one of three top paddle boards for yoga as covered in Carlo's paddle board yoga article.

The Connelly 2021 Tahoe 11' 6" SUP is available from Redshift Watersports. The 2021 Tahoe 10' 6" board is also sometimes in stock there.
Redshift also carries the Connelly 10' Drifter and the 10' 6" Connelly Dakota in limited stock.
The Connelly Odyssey 2.0 SUP can be ordered online from Dick's Sporting Goods. And finally, the Connelly Classic 11' 6" foam hard board can be found at Overton's.
I have used Redshift and Overton's for years for my watersports equipment purchases, from ropes to inflatables, to boat repair supplies and more. Both have great online service, which is now more important than ever.
Here is the full lineup:
With just four boards to choose from, this economical company may not have the most variety, but you can definitely find something that you can afford. From under $250 to under $850, there is something for every budget at Decathlon. And each board comes with a backpack and pump. Here are some of the specs for the Decathlon SUPs:
Serene Life is another economical choice for inflatable paddleboards. For around $400, you can get one of their two styles of paddleboards. These are high-quality boards for a nice price, and they come with all the accessories you need to get in the water right away. They both include:
An ankle leash
Pump
Air hose
Adjustable paddle
Extra fins
Backpack
Repair kit
These are the only boards in this article sold on Amazon. Both are available in multiple color schemes. Each of the two models of inflatable paddleboards from Serene Life has its own set of specs:
For less than you would think, Gili can put anyone in the paddleboard of their dreams. And what is even better is that part of every purchase goes to saving endangered species, reefs, and sea creatures. All of their boards are made with premium PVC material for strength and have an accessory package that includes:
10-foot coiled ankle leash
Aluminum travel paddle
Two-stage hand pump
Snap-in center fin
A high quality backpack
With four models to choose from, in several different colors, you will be sure to find what you are looking for. And you'll find it for less than $800, Here are the specs:
Choosing the Right Paddleboard for Your Needs
Are you a racer or a surfer? Maybe you enjoy windsurfing? Yogis enjoy paddleboards as well. Believe it or not, you can do just about anything on a paddleboard. Whether you are planning to do some fishing on the lake or hanging ten in the ocean, there is a paddleboard that is perfect for you.
Flat Water Paddling
Any of the all-around paddleboards on the list are good for many types of paddleboarding. Fishing or paddling on flat water is easy on the all-around boards. You can take them in any type of water and since they come in many different lengths and widths, they are great for all types of paddling. The all-around paddleboards on this list include:
Touring
For exploring, any touring paddleboard is a good choice.
These are made with a stiffer build and enhanced stability as well as a profiled nose for high-speed cruising. If you like to glide along and go for long-distance rides, the touring paddleboard is the one you need. Some of the touring paddleboards on the list include:
Surfing
If you like to surf, you need a board that is tougher and stiffer for rough surf. Most surf paddleboards have a removable and adjustable fin, a narrow tail, and a rounded nose. Some of the best surf paddleboards on the list include:
Racing
For those who like to race or to just go fast, racing paddleboards are made with a special stiffening process as well as RSS stiffening battens to cut through the water with ease.
They are also made lighter than other paddleboards so you can get that extra edge for racing. Here are the paddleboards on the list that are made for racing:
Yoga
When you want to get out on the lake and relax, try some yoga on one of the yoga paddleboards. Stretching and posing are easier on the extra wide boards and they are thicker than other boards to help keep you dry while practicing your yoga poses. Here are some of the yoga paddleboards on the list:
Wrapping it Up
Bought a paddle board and need some tips? Read What PSI Should a Paddle Board Be, Can You Inflate a Paddle Board with an Electric Pump, or check out the entire list of paddle board articles on the site.
Whichever paddleboard you choose, make sure it is right for your paddling needs.
Whether it is solid core or inflatable, and regardless of whether you want to surf or race, you are sure to have a blast on one of these paddleboards.
From the premium high-dollar iRocker paddleboards to the economical Gili Sports paddleboard, there is something for everyone on this list.
The most important this is to choose one, get out there, stay safe and have fun!